Last week, we covered six watches with a vibrantly coloured dial to add into a watch collection. This week, we decided to take it up a notch.
Instead of looking just at coloured dials, we will be focusing on watches with a coloured case instead. This means that instead of the usual case variants, we are looking at timepieces with cases that have a unique colour. What are some of these watches? Let us find out!
Swatch Sistem51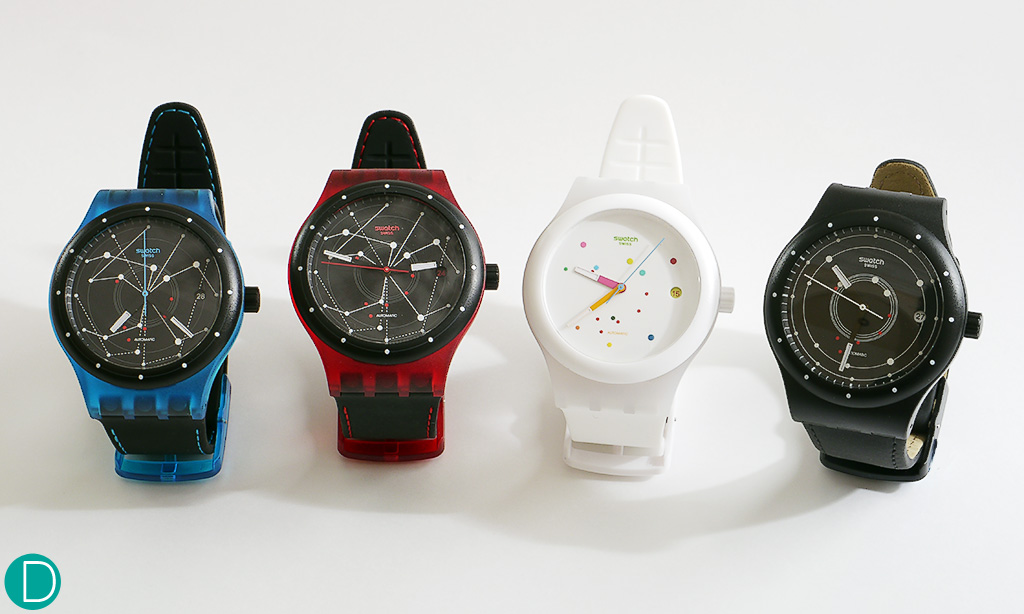 Since its introduction in 2013, the Swatch Sistem51 had continuously brought us joy in the world of affordable and fun watches.
The Sistem51 is one of the most interesting breakthroughs in the horological world over the last few years. What is interesting about this self-winding watch lies in its movement – its 51 components are completely put together by machines, and the movement is held by a single screw. It is also funky in its design, which allows collectors to enjoy Swatch watches with the option of a mechanical movement.
Priced at CHF 150 (approximately S$224), the Sistem51 is decently priced for a lively and casual mechanical watch. We think that it will be the perfect watch to watch on a relaxed weekend.
Gorilla Fastback GT "Elise"
Gorilla – the brainchild Octavio Garcia and Lukas Gopp – is a relatively young watch brand that aims to target adventurous watch collector with their unusual take on timepieces. The 44mm Fastback GT "Elise", notably, features the elusive "wandering hours" mechanism – typically seen on high-end independent brands such as Urwerk and H. Moser & Cie.
Powering the Fastback GT is an ETA 2824-2 movement, coupled with a Vaucher module. The use of such a combination ensures that Gorilla can keep its prices modest, and yet allow consumers to enjoy an unusual complication without compromising on the quality or performance. Additionally, the self-winding movement beats at 28,800 bph and it has a power reserve of around 36 hours.
The Gorilla Fastback GT "Elise" is limited to a production of 350 pieces, and this special model has a case that is made up of four different materials: Ceramic, aluminum, titanium and carbon fibre. The watch is priced at S$5,088, and it is certainly a well-priced timepiece with an interesting complication that is backed with fun and vibrant colours.
Omega Speedmaster White Side of the Moon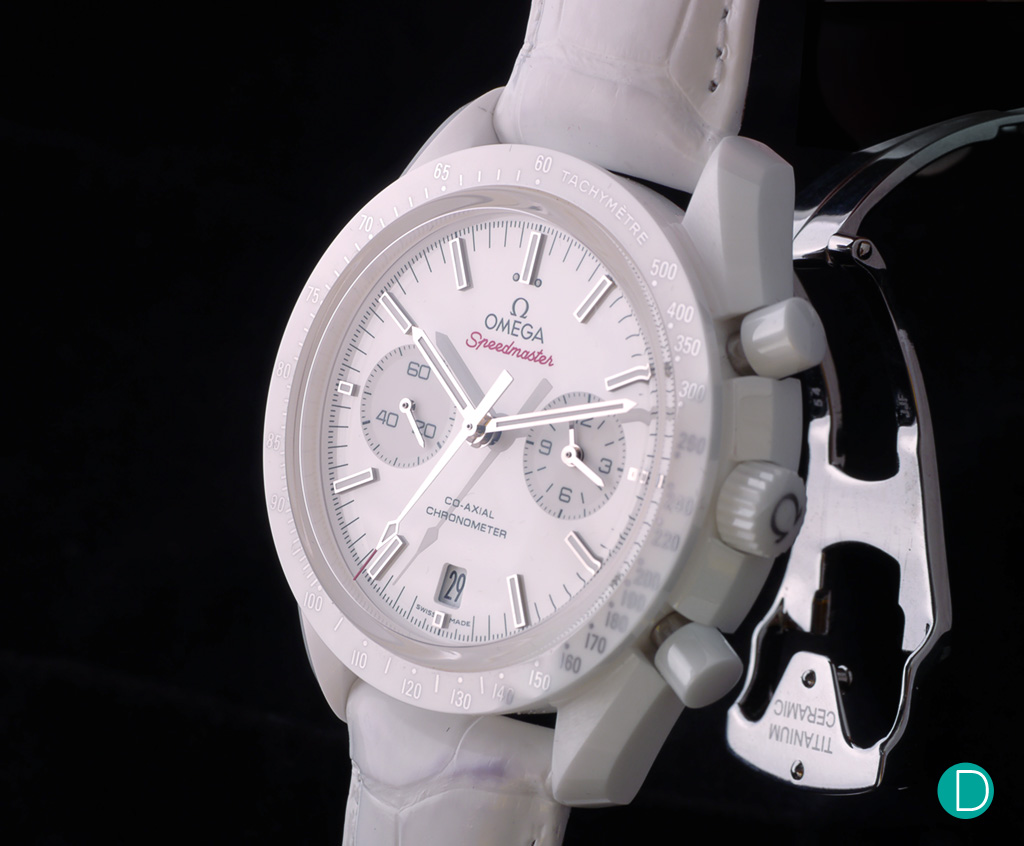 The Speedmaster has always been seen as a serious tool watch – especially with its provenance as a timepiece that was used for space missions. However, we have a Speedmaster that is a tad different from the rest. Cue the White Side of the Moon ("WSOTM").
Cased in a highly unusual white ceramic case, the pure and clean looking WSOTM is one of the special variants of the Speedmasters that were produced by Omega. The 44.25mm timepiece is an all-white watch, where the case, dial, and strap are all decked in white. It is contrasted nicely with red and black accents on the dial and bezel of the watch. The combination is interesting, and one that certainly provides a nice breath of fresh air.
The watch is fitted with the Omega Co-Axial Calibre 9300. The self-winding movement is the first CO-Axial movement that features the chronograph function, and it is chronometer certified as well. The movement is also anti-magnetic, and it boasts a power reserve of around 60 hours.
The timepiece is priced at S$16,750. It is certainly a unique Speedmaster, but one that is polarising for sure. Regardless, we think that this is a cool creation, and one that will stand out amongst the others within a collection.
Hublot Big Bang Unico Red Magic
If your goal is to paint the town red, then perhaps the Hublot Big Bang Unico Red Magic might just be the perfect timepiece that you are looking for.
The most obvious characteristic of the watch lies in its case. The watch is cased in the first "vibrantly coloured ceramic" using technical and aesthetic ceramics. According to Hublot, its proprietary manufacturing process allows them to produce a bright red ceramic case that is extremely dense and hardy – a first of its kind in the industry itself. The result is certainly amazing, and its combination with the large 45mm case makes the Red Magic a rather conspicuous watch.
Powering the watch is Hublot's in-house Unico Calibre HUB1242. It is a self-winding movement that boasts a date function and a flyback chronograph complication. In addition, the 330-part movement boasts a decent power reserve of approximately 72 hours. The Red Magic retails at S$37,200, the limited-edition timepiece (of 500 pieces) is certainly something that will stand out in the crowd.
De Bethune DB28 Kind of Blue
De Bethune is one of the independent watch manufacturers that is highly revered by collectors. We like its attention to detail, as well as its interesting design concepts. The DB28 Kind of Blue is an example of what the brand is capable of achieving.
The DB28, without a shadow of doubt, is one of the brand's most iconic models. It features an interesting dial, as well as the uber-cool floating lugs. But what makes this particular DB28 so special is its blue case. The deep blue metallic finish that was achieved by De Bethune was a result of the special heat treatment technique on grade 5 titanium. The end result is certainly one that is unlike any other watches that we have ever seen so far.
The tourbillon version is priced at CHF200,000 (approximately S$298,202). Honestly, the DB28 Kind of Blue is truly a work of art, and one that truly showcases the capabilities of De Bethune and its atelier.
Richard Mille RM27-02 Rafael Nadal
Richard Mille is a brand that is not afraid to be loud and bold. The RM27-02 Rafael Nadal edition is a timepiece that encapsulates that nicely.
Over the years, the brand had constantly try to outdo themselves by producing mind-blowing timepieces that emphasised on lightweight. One of the watches that the Les Breuleux-based watchmaker had produced is the RM27-02, specially for Rafael Nadal. The white timepiece weighs a mere 19g, all thanks to the use of a composite that comprises of both NTPT Carbon and TPT Quartz.
The watch comes with a manual-winding movement, which boasts a power reserve of around 70 hours. It is fitted with a tourbillon, and it is strong enough to withstand a force of up to 5,000G. After all, the watch is meant to be worn during tennis matches, which are prone to great shocks. This price, however, is quite a shocker though. It retails at CHF 734,500 (approximately S$1,095,000), and it will be limited to 50 pieces. But the orange strap – together with the clean white tonneau case – certainly makes it a colourful addition to any collection.
Concluding Thoughts
In today's article, we have seen some rather interesting timepieces which features coloured cases. Understandably, these watches are definitely more polarising: People either like its bold and loud character, or they think it is a tad too overdone. We do, however, think that it is a nice addition to any watch collection. It definitely adds a touch of vibrancy, and it is perfect on occasions where you want to let your hair down and dress casually.
So, what are your thoughts on these watches? What are some of the others that should have made it on the list today? Let us know in the comments section below!