F.P. Journe extends the Automatique Lune with the new Havana: with an enlarged big date and larger moon display on a warm, tobacco coloured dial that perfectly matches the platinum and 18K 6N gold 40 or 42 mm cases as well as the caramel alligator strap. This model is also available with platinum and 18K 6N gold bracelets.
Press Release with comments
F.P. Journe Automatique Lune Havana
First generation F.P. Journe Automatique Lune

First introduced in 2015. Also available with a case in 40 or 42 mm. in Platinum or in 18 K red Gold, a red or white Gold and silver dial, on leather strap, Platinum or red Gold bracelet.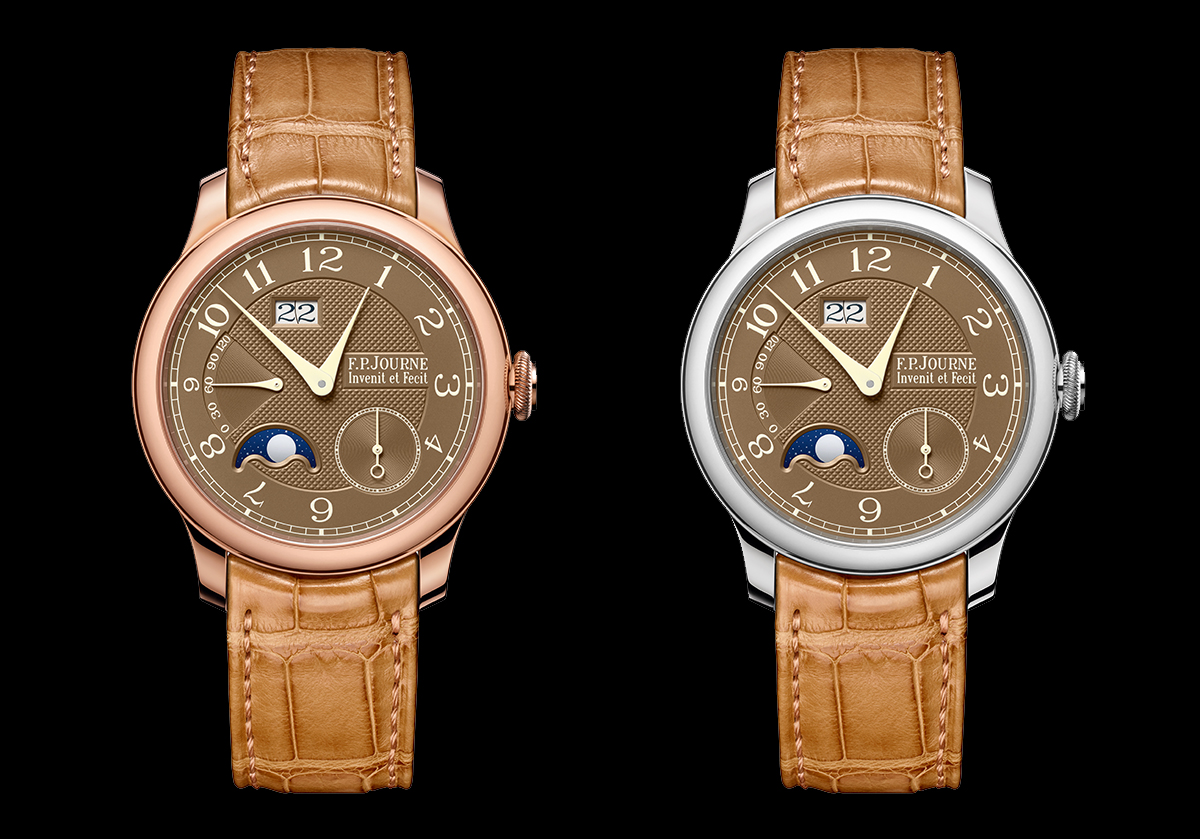 The new Automatique Lune Havana now has a larger date (4.7 x 2.6 mm) and larger moon for optimal readability. Available in four versions in either platinum or red gold and either 40mm or 42mm. An earlier version in 2018 was introduced with the Havana dial with the original date and moon display.
The dial – a new face for the Lune Automatique
The dial colour is unique to F.P. Journe, a result of the company's well-tended independence, which ensures its creative freedom. It was developed by F.P. Journe's own dialmakers, Les Cadraniers de Genève, in a process lasting several months. In essence, it is a combination of gold and ruthenium. But to get the colour just right required many adjustments to the formula.
The new, larger date and new moon display
The new F.P. Journe Automatique Lune Havana expands on the original formula by adding a larger date aperture (4.7 x 2.6 mm) and a revisited moon in sapphire. The guilloche clou de paris silver dial surrounded by printed numerals is in harmony with the long teardrop-shaped ivory coloured steel hands and the moonphase. Finally, the new Automatique Lune is fitted with a retrograde power reserve indication with a 120-hour scale and a larger crown with F.P. Journe's distinctive silk-rope motif, tying together the aesthetic balance of the piece.
The movement Octa 1300.3
The Lune Havana retains the mechanical movement with automatic winding, manufactured in 18k rose gold. The movement is built on the exclusive calibre Octa 1300.3. and is the first Journe automatic movement with a power reserve sufficient to insure precision timekeeping for over five days or 120 h (effective power reserve: 160h ± 10h). It is wound unidirectionally by the exclusive off-centre F.P. Journe rotor in 22K 6N gold, using a self-locking ball bearing system for unequalled efficiency. Every infinitesimal movement of the wrist is thus maximally exploited for an optimised winding of the watch. The variable inertia balance wheel ensures an optimum yield that offers an irreproachable stability.
A specific wheel train allows precise moon phase indications for the Automatique Lune Havana. Adjusting the indications is done via the crown, which makes it very easy to use.
For a detailed discussion on the movement, please see The Journe Guy's article here.
F.P. Journe Automatique Lune Havana Technical Specifications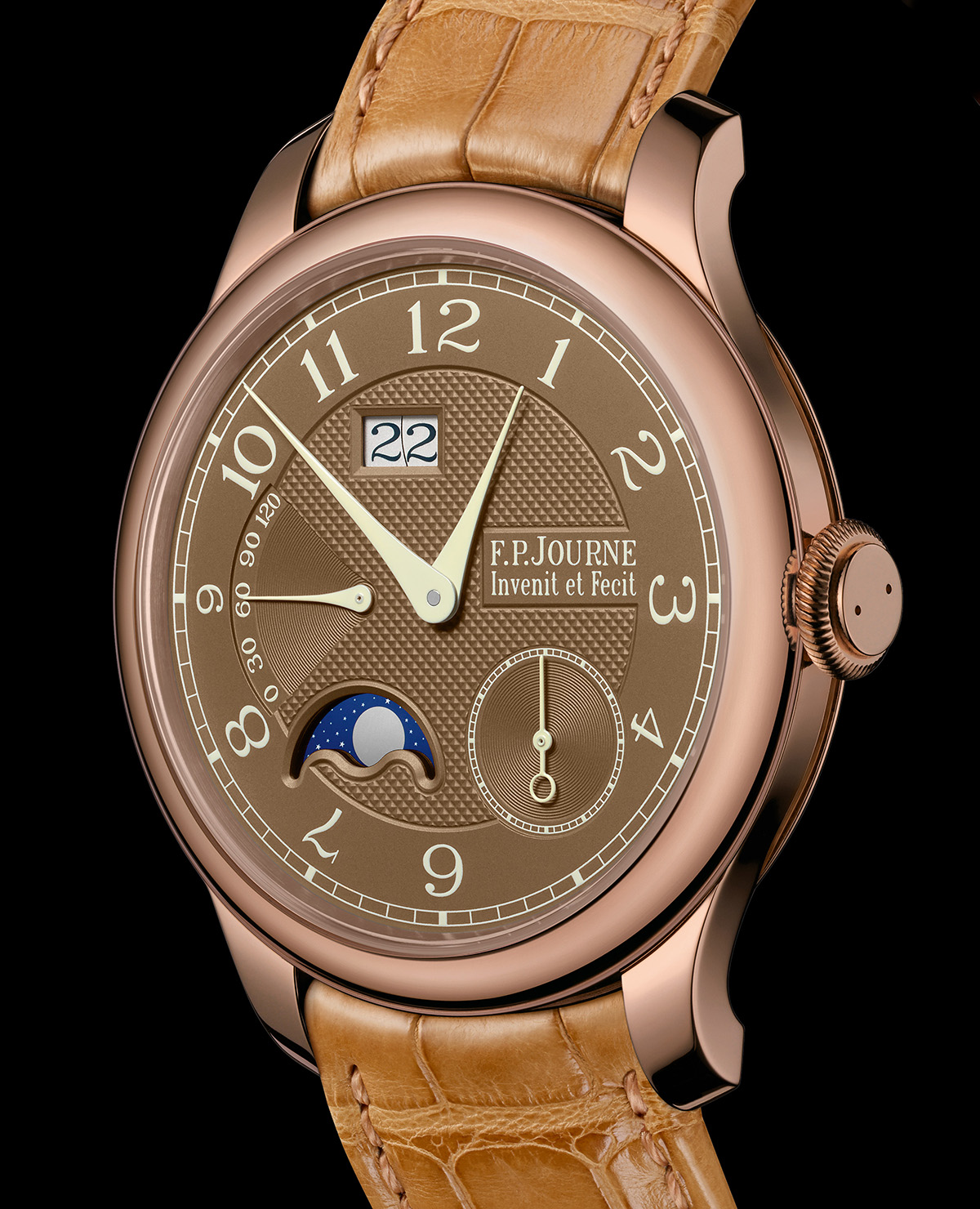 Movement Calibre F.P.Journe 1300.3 in 18K rose Gold Unidirectional automatic winding Off centre rotor in 22K 6N Gold Dimensions of the movement Total diameter: 34.60 mm Casing-up diameter: 30.40 mm Overall height: 5.95 mm Height of winding system: 3.10 mm Diameter of stem thread: S0.90 mm Balance Four adjustable inertia weights Anachron flat balance spring Mobile stud holder Free-sprung Nivatronic laser soldered balance spring Barrel with slipping spring Pinned GE stud Frequency: 21,600v/h (3Hz) Inertia: 10.10 mg*cm2 Angle of lift: 52° Amplitude: 12h dial up: >280° 90h dial up: >220°
Main characteristics Three position crown Instantaneous jump calendar Winding of the watch in position 0, clock wise Correction of date in position 2, anti clock wise Correction of the moon in position 2, clock wise Correction of time in position 3 Escapement Linear lever 15 teeth Autonomy 160 ± 10 hours Winding speed on watch winder: 274 rotations (anti clock-wise) / 24 hours.
Indications Central hours and minutes Small seconds at 4:30 Large date Power – reserve at 9:00 Moon phases at 7:00.
Decoration Circular Côtes de Genève on bridges Partly circular graining on base plate Polished screw heads with chamfered slots. Pegs with polished rounded ends Steel components hand polished and chamfered.
Case Platinum or 18K 6N Gold – 40 or 42 mm Height: 10.6 mm Dial Havana guilloché Silver Number of parts Movement without dial: 271 Cased up on leather strap: 295 Jewels: 36