Yema is a brand that had caught our attention in recent times, ever since we did a review on the Rallye Andretti Limited Edition. The French-based watch manufacturer had certainly exceeded many expectations – with its wonderful designs and excellent value proposition.
Yema Superman Steel Bronze
When Yema told us that the brand is launching a new variant of the Superman diver's watch, we were rather excited. Based on the timepiece that was first launched in 1963, Yema had recreated one of its popular classics – this time with a two-tone case. How does the new variant fare? Let us find out!
The Case, Dial, and Hands
The Yema Superman Steel Bronze, as its nomenclature suggests, is a two-tone timepiece that is cased in both steel and bronze. For this particular model, bronze is predominantly used on the bezel, crown, and the bezel lock.
The model, similar to most of Yema's watches, draws its inspiration from its archives. The Superman is actually a timepiece that was produced by the brand in the 1960s, and Yema had produced a faithful reproduction of the classic model with some modern technical bits. The boxed crystal, as well as the oxidised bronze bits, definitely accentuates the classic characteristics of this timepiece.
One of the most prominent features of the Superman is the bezel lock mechanism. While the unidirectional bezel offers users a form of safety mechanism against accidental adjustments, the bezel lock provided an additional layer of safety protocol. The bezel lock prevents the bezel from rotating, and it is only "unlock" when the crown has been unscrewed. The only drawback of this mechanism is that it can only be used above the water, as water will seep into the watch if the crown in unscrewed in the sea. Nonetheless, it is an interesting concept, and one that certainly provides an interesting aesthetic detail to the watch itself.
The dial is a rather simple affair. It features round and stick indices, each treated with Super-Luminova. The hands, on the other hand, are made with bronze – hence providing a nice contrast to the dial. They are also filled with Super-Luminova to allow users to tell time in low-light environments. One notable aspect of the hands is specifically the seconds hand, where it is crafted into the shape of a shovel. It is slightly unusual, but it definitely pays homage to the signature of the brand.
The Movement: YEMA2000
Powering the Superman is the in-house YEMA2000. This is a self-winding movement that is produced since 2011 by the brand, and it hopes to combine manufacturing simplicity and efficiency with sound performance at a competitive price point.
The movement is notably simple, but it is functional. It boasts some important functions such as a quick-set date, hacking seconds, and a power reserve of around 42 hours. It has an accuracy of +/- 10 seconds a day as well.
Notably, the caseback is solid and hence we are unable to ascertain its finishing. We are not expecting too much considering that it is a no-frills in-house movement, and its specifications have pretty much met our expectations for its price point.
Competitive Landscape
The Yema Superman Steel Bronze – which is available in both 39mm and 41mm case variants, as well as Grey and Green dial options – is priced at €454 (approximately S$725) for Non-EU backers, and €545 for EU backers. It is available on Kickstarter, and the prices will return back to its original amount of €990 (approximately S$1,580) after a limited time period. It is limited to a production of 1948 pieces.
Even at its original price point, the Superman Steel Bronze is a steal. We would say that it is quite a no-brainer to get the timepiece especially with the 54% discount on Kickstarter. It is also impossible to get a solid timepiece with an in-house movement at this price point for a watch that is produced in Europe.
Frankly, if one is looking for a classic diver with a similar price point, it might be more prudent to turn towards stainless-steel timepieces. The 44mm Citizen Fugu is a solid example, and one that offers a tremendous value proposition. It is priced at S$555, and it is perhaps one of the most affordable mechanical timepieces from a reputable watch manufacturer.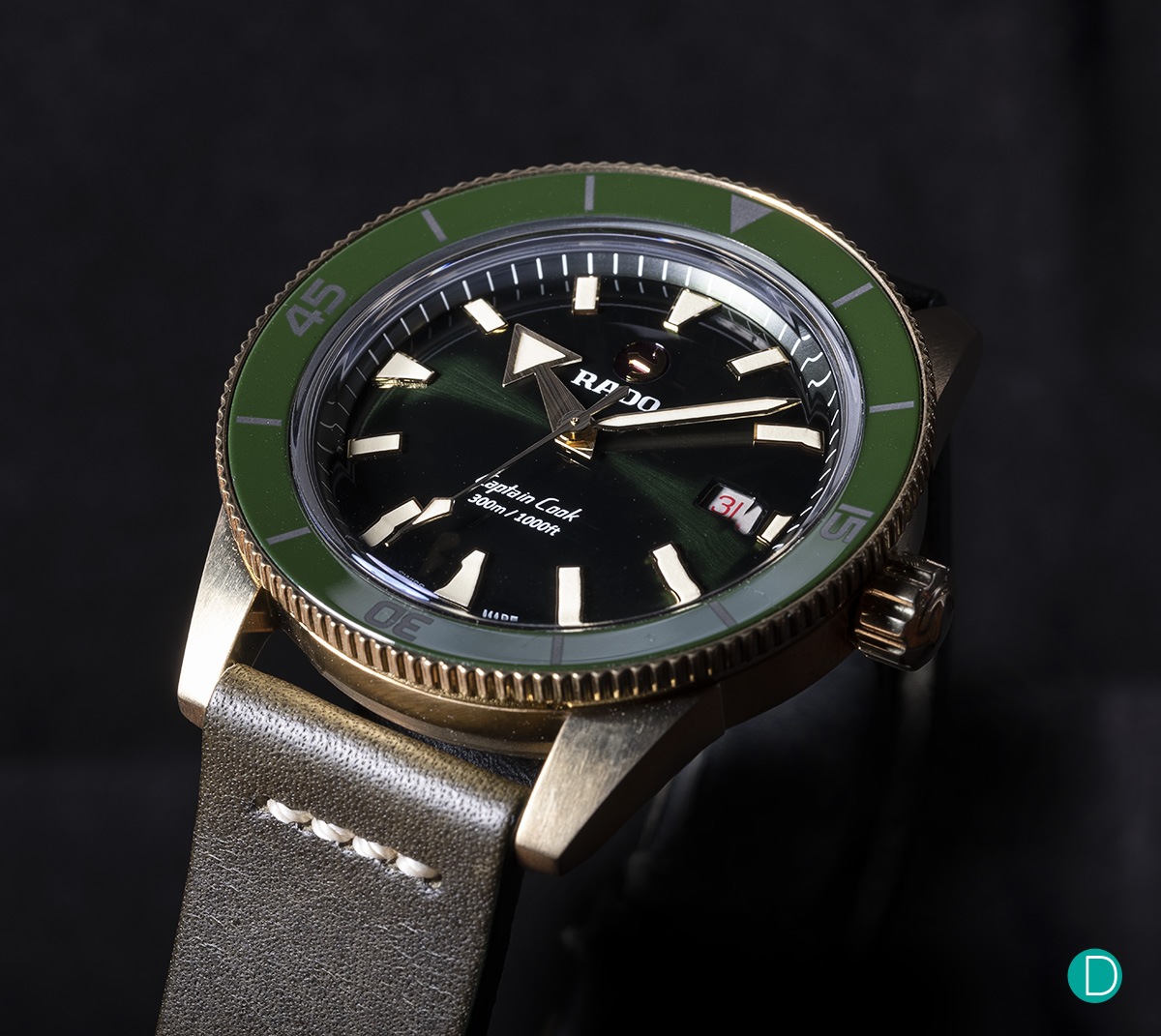 If you are still keen on Bronze watches, then perhaps the Rado Captain Cook Bronze is a timepiece that is worth considering. This is a well-made timepiece from an established brand, but its price point is definitely one notch higher than the Yema Superman. Priced at S$3,740, and it is an interesting option for someone who is able to stretch his or her budget a little longer.
The Oris Divers Sixty-Five Carl Brashear Limited Edition is another contender, albeit at a higher price range as well. This limited-edition timepiece is fitted with a Sellita SW-200 movement, featuring a date display and a power reserve of around 38 hours. Priced at CHF 2,600 (approximately S$3,860), it offers collectors a great timepiece with an interesting story to boot as well.
Concluding Thoughts
The Yema Superman Steel Bronze is a simple, solid, and well-priced timepiece. It is rare to come across a watch with an in-house movement at this price level, and Yema has proven to us that it is possible for watch manufacturers to achieve this feat.
Yema, as a brand. has been producing some decent timepieces for the past few years. We are hopeful that the brand has found some footing in the horological scene, and we are keeping our fingers crossed that the brand will continue to deliver modestly priced watches with an excellent value proposition. We will continue to keep our eyes peeled on this French-based manufacturer, and we reckon you should do so as well.
Details on the kickstarter: