Now that you've climbed to the top of the corporate ladder, or you've made a fortune for yourself. How are you going to tell the others that you've made it, without being too brash and loud about it?
Enter the world of dress watches. Dress watches, in our opinion, are some of the nicest and most elegant timepieces that one can wear on their wrists. But for the purpose of this article, we are looking beyond the usual suspects. We want something more different from the usual options. We want something that is discreet – something that only the discerning and learned collector will know what's on your wrist.
So, after discounting some of the more mainstream choices, we are still left with quite a number of great timepieces to choose from. What dress watches have we selected on this occasion? Let's find out!
Parmigiani Toric Chronometre
First up, we have one of our favourite pieces from Parmigiani – the Toric Chronometre.
Parmigiani is one of the more prominent independently owned high-end watch manufacturers, and the Toric collection is known for producing haute horlogerie pieces that feature complications such as the minute repeaters and tourbillons. As our Chief Editor mentioned previously, it was a pleasant surprise that Parmigiani had launched a basic model for the collection, and a beautiful one at that.
Despite being a simple timepiece, Parmigiani have incorporated intricate touches to the timepiece. The bezel, for instance, comes with a coin edge design that was inspired by columns of Ancient Greece, with the patterns derived from gadroons and knurling. The end result is certainly stunning, and yet it still manages to maintain its elegance and classiness.
The Toric Chronometer is powered by the in-house calibre PF331. It is a self-winding movement boasts a date indicator, as well as a power reserve of around 55 hours. The 40.8mm watch is available in both red and white gold, with a retail price of CHF 18,500 (approximately S$26,214).
Breguet Classique 7147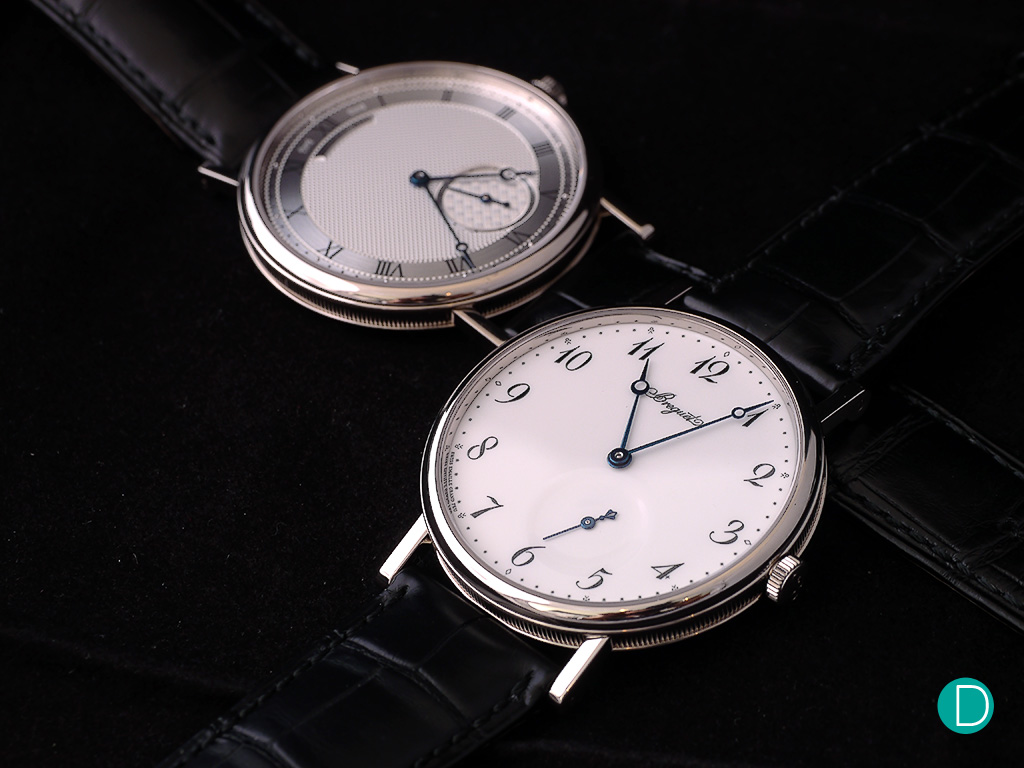 When it comes to watches in the high-end category, Breguet is often overlooked by many collectors. The bulk of the interest have always revolved around the holy trinity brands, although in recent times manufacturers such as A. Lange & Söhne have slowly attained its fair share of acknowledgement as well.
In Baselworld 2017, the brand has launched a rather enchanting dress watch in the Classique collection: the 7147. The 7147 is a quintessential Breguet piece, featuring its signature touches such as the "Breguet-styled" hands and numerals, fluted coin-edge case, and the welded lugs with screw bars. But what sets this apart from the rest of the watches in the collection is the dial. This piece is fitted with a grand feu enamel dial, which gives it a rather pure white appearance. Another noteworthy point is the sub-seconds dial at the 5 o'clock position, in which it is marked with a slight depression. This effect gives the sub-seconds dial a smooth transition, thus making it rather discreet and non-obtrusive. It is very cool indeed.
Powered by Breguet's self-winding Calibre 502.3SD, the 35-jewel movement boasts a decent power reserve of 45 hours. It is well-finished as well, which adds a nice touch to the timepiece. The 40mm is notably available in either rose gold or white gold, and they are priced at US$21,500 (approximately S$29,923) and US$21,000 (approximately S$29,227) respectively.
Chopard L.U.C. Quattro
Chopard is one of the brands that we adore for its well-made timepieces, but it is not a manufacturer that is familiar with many collectors. It is a great shame, as collections such as the L.U.C. is certainly up there with the big boys.
The new 43mm Quattro is one of such remarkable creations. The timepiece attained its nomenclature with the use of four mainspring barrels, which offers an impressive power reserve of approximately 9 days. Its construction is rather sophisticated as well, considering that Chopard is able to maintain the movement's thickness of a mere 3.7mm. On top of that, the finishing of the in-house Calibre 98.01-L is sublime.
Retailing at US$25,800 (approximately S$35,080), the L.U.C. Quattro offers collectors an alternative in the world of haute horlogerie. It is rather challenging to find any faults with this timepiece, and we sure hope that the brand gains much more recognition than status quo.
Voutilainen Vingt-8
When it comes to independent watchmaking, master watchmaker Kari Voutilainen has always been touted as one of the most talented individuals in the business. The Vingt-8, a mainstay in the Voutilainen repertoire, showcases that point beautifully.
One of the latest variations of the Vingt-8 was launched in SIHH 2019. This particular example comes with a plain grand feu black enamel dial, unlike most of the other pieces that features either striking colours or guilloché patterns. The 39mm timepiece also features other signature touches, such as the teardrop lugs and a superbly finished movement. The latter is one of the key selling point that allows Voutilainen to be considered one of the best watchmaker in modern watchmaking.
The Vingt-8, with the grand feu enamel dial, is priced at CHF 86,500 (approximately S$122,567). This is a little steep for a time-only watch, but this is what one has to pay for such superlative craftsmanship. Granted, this watch is not for everyone. But if one is lucky enough to be able to afford it, we'd highly recommend this sublime watch any day.
A Lange & Söhne Richard Lange Pour le Mérite
The Pour le Mérite collection from A Lange & Söhne is considered to be the pinnacle of watchmaking for the Glashütte-based watch manufacturer. They are considered to be some of the most well-made, stunning, and complicated watches to be produced by the maison, and they are certainly one of the most desirable series of watches to collect for the longest time.
The 40.5mm Richard Lange Pour le Mérite is one of the five watches from the exquisite collection. While it might be the least complicated one (it is the only one without a tourbillon regulator), but there is a lot more to it than meets the eye. Beneath the stunning enamel dial lies an incredibly finished movement that houses a fusée-and-chain mechanism. The mechanism, which is made up of 636 components in this particular watch, allows the constant force to be supplied to the escapement as the mainspring (or fusée) unwinds itself. This prevents the loss of torque from the conventional mainsprings, which may affect the accuracy of the timepiece as it progresses towards the tail-end of its power reserve.
The newer Richard Lange Pour le Mérite, which comes with white gold case and a black finish silver dial, is priced at US$82,500 (approximately S$113,636). However, the original version with the white enamel dial (as seen in the picture above) has long gone out of production. You'd be lucky if you happen to find an example of that in the secondary market – and if your finances permits, you'd better not let that slip away from your grasp.
Philippe Dufour Simplicity
We round up the article with another superlative timepiece: Philippe Dufour Simplicity.
The Simplicity, as its name suggests, is a simple timepiece. It is a three-hand watch, without any complications to speak of. But what makes this particular watch special is its incredible details. The pièce de résistance of this piece lies in the movement, and more specifically the superlative finishing. There are a multitude of hand-finishing techniques were applied, and that includes black polishing, interior angling, and chamfering. The double assembly method is also applied to ensure that the final finish isn't marred by the assembly and adjustment process. This is dedication at its finest.
The Simplicity is discontinued, and its last known retail price is CHF89,000 (approximately S$126,109). We have, however, seen some of the pieces being priced upwards of US$200,000 (approximately S$278,349), and even then, it is rarely seen or available in the secondary markets. If there is just one watch that you'd keep for the rest of your life, we will surely bet our money on the Simplicity. It doesn't get any better than this.
Concluding Thoughts
There are many other dress watches out there that deserves a spot on the list as well. That made us wonder – why are collectors still opting for the safer choices, when there are so many exceptional pieces out there that are waiting to be discovered?
For the more adventurous collectors, we highly recommend you to take a look at the world of independent watchmaking. Brands such as AkriviA, Laurent Ferrier, and F.P. Journe offers some of the prettiest and well-finished timepieces that money can buy. Take a look at these watches in person, and be prepared to be blown away by the staggering attention to detail. We can promise you that you'd never look at watches the same way again.
Let us know your thoughts on our selection today, as well as some of the more uncommon high-end dress watches that you have in your collection, in the comments section below. Till the next article, ciao!