The Audemars Piguet CODE 11.59 is certainly no stranger to controversy. The web is full of varied opinions on the collection. Most of which are highly critical. When we wrote our detailed review of the Self-Winding, it was no different. Our IG accounts buzzed with mostly negative comments on the watch, and how AP handled the launch. But from one of our readers came a sole positive voice. And we thought we'd share this with you. Here is Christian Kretschmar viewpoint.
Preamble
But to begin, let us refer you to the two articles we have published on the collection:
Opinion piece on the AP CODE 11.59. The good, the bad and the ugly.
Text and photographs by Christian Kretschmar
Audemars Piguet CODE 11.59 Self-Winding
Why I bought it, and why I don't regret it
Suits, shoes and watches have one thing in common, and I think you might agree on that: It's all in the details, everything.
I had been looking for a "dress" watch since quite some time, because I felt that my watch collection is incomplete without a time-only piece, preferably in a precious metal, that is not a sports or a tool watch. And as a longtime fan of Audemars Piguet, I looked into the "Jules Audemars" line, I went to see Calatravas at Patek Philippe, Saxonias at Lange, and I looked at the offers of Jaeger-LeCoultre too, of course. None of the above made me fall in love, I was always missing that je ne sais quoi that makes you want a watch. They were either too plain, too vintage, too small, or too flashy for me. So I was very excited when I heard that AP is going to release a "round" watch, sometimes in 2017. I still had to wait a bit, obviously.
I remember that particular Saturday, January 12th, right before the SIHH 2019, when the first pictures of the CODE 11.59 were leaked online around noon; but honestly, I was slightly underwhelmed. I had my trip to Geneva planned already for a few days later though, especially as it was the last time that AP would be part of the SIHH. The online war, that immediately started raging against AP after the pictures emerged, made me even more curious about the watch – I have seen watches made by AP that I don't like, but never something remotely resembling a "mall watch". And though I doubt that someone who comments on social media with a row of nine green emojis would ever actually consider to purchase a watch at this price point, I wanted to see if all that vitriol was justified or not.
In short, when I saw it in real life, I fell in love with it, and here's why:
The Dial
Much has been written about this dial. To me, the dial of a dress watch has to be discreet, meaning that it doesn't scream the time at me, rather being a piece of jewellery that happens to tell the time on a side note, and that beautifully. Of course there's no luminous material on the hands, and they are ever so slightly different in their respective width. The minute hand is just the tiniest bit less wide than the hour hand, and the seconds hand is just that bit more slender than the minute hand. The tips of the hour markers perfectly mirror the tips of the hands. The length of the minute and seconds hand match perfectly with the indices and the minute track, and they make it possible to set and read the time very precisely at ease, if you wish to do so.
The numerals are derived from an Audemars Piguet minute repeater from the 1940s, and I'm quite happy that the "3" hasn't fallen victim to the date window placement. I happen to see the date only when I'm looking for it, and then the placement seems very beautiful to me, preserving the balance and symmetry of the numerals.
The black lacquered dial is, of course, impeccably executed. The AP logo, along with the numerals, has that gorgeous depth to it, that keeps reflecting the light differently all the time and makes it hard to take the eyes off of it. It's a pleasure to look at under the loupe as well (yes, I do that sometimes, quite to the amusement of my wife).
And then there's the crystal: double-curved in two different senses, from 6 to 12 on the outside, and concentric on the inside, creating a unique and subtle, but visible effect that I haven't yet seen anywhere else, and that makes this watch quite difficult to photograph, together with the highly reflective dial. But being a photographer myself, I take the challenge. As it moves, it really comes to life. It has to be seen and worn in real life to be judged finally.
The Case
To my very own taste, a men's watch shouldn't be flashy, particularly not if it's in yellow or rose gold. With the CODE, you don't see much gold from the dial side.
But from the case side, all the extraordinary case construction details come into view – but only if you look out for them: The octagonal inner case part as a nod to the notorious Royal Oak bezel, the open lug construction with the hexagonal screws (hello RO again), all with that trademark AP brushed and polished finishing, that is so hard to find anywhere else. And it creates an absolutely unique "under-the-cuff" look, with just enough height (10mm) to be substantial and fit under a sharply cut cuff at the same time. It wears very comfortably, and quite a bit smaller than its diameter of 41mm implies – even on the slender wrist of my wife it's perfectly wearable, albeit with that charming boyfriend watch look.
The Movement
The new and beautifully finished movement (calibre 4103) has been released together with the watch itself. It's currently used in the CODE and in the new Royal Oak 15500.
It is substantially bigger than the calibre 3120 (32 mm instead of 26,6 mm in diameter) and has gained quite some power reserve: 70 hours seems ample to me. My example seems to run even a good bit longer, it is very accurately regulated, and compared to the 3120s that I know, it has a great deal less slackness, making it a joy to set the time. The higher frequency of 4 Hz (compared to the 3 Hz of the 3120) shows in a very smooth sweep of the long slim seconds hand.
Wearing It
I'm lucky to have a few very beautiful watches in my collection, of which some were made by Audemars Piguet. I find it hard to compete with the complexity and variety of finishes on the APs, so I mostly pick one of those to wear. Since the CODE is part of my collection, I always look for reasons to wear it. Being a rose gold dress watch, it might seem to be over the top for some occasions, but I find it quite versatile, even in a more casual setting. Just as my other APs, it is so over-engineered and over-finished, that I keep finding new reasons to look at it, and it keeps growing on me every day I wear it.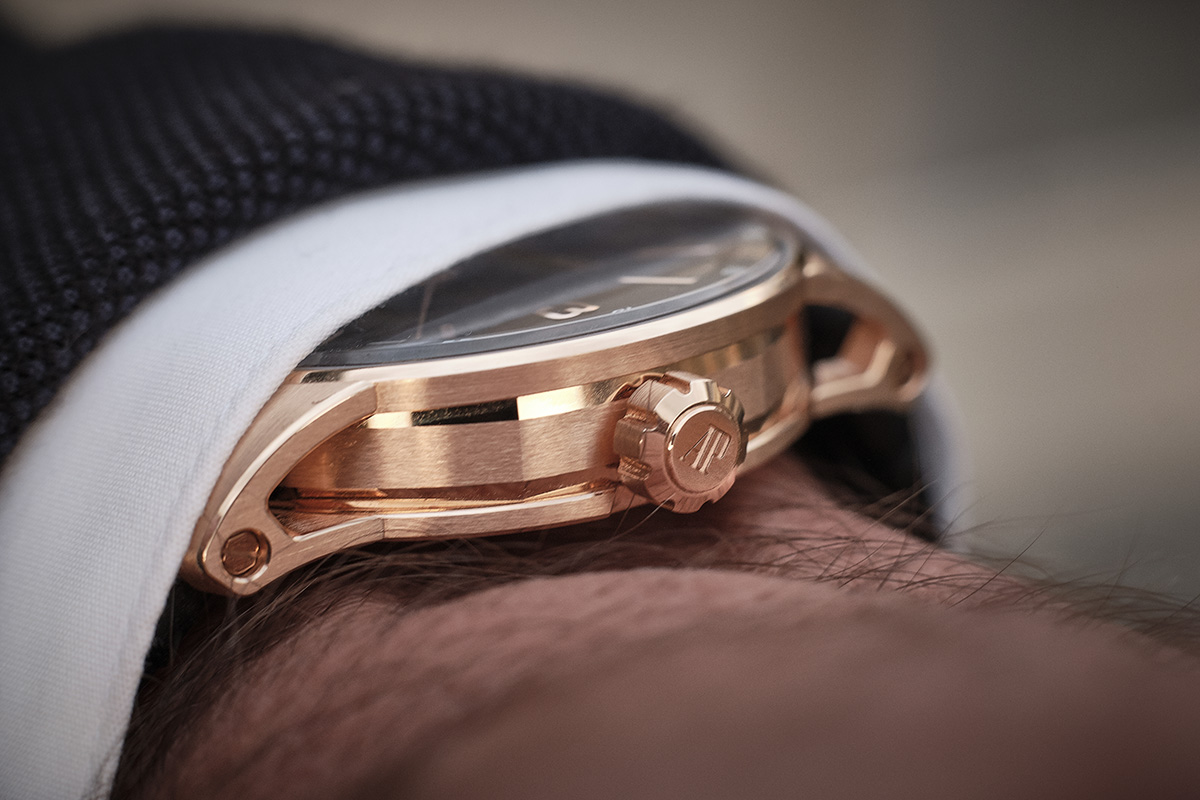 I'm looking forward to see more strap options from AP (grey/beige alligator maybe?), as the black alligator strap, that the watch came with provides quite a formal look. It is extremely comfortable to wear though, particularly not having a calf leather lining on the inside.
Whenever I meet watch people while wearing the CODE, it becomes a great conversation starter. Everybody has heard of it, and almost everybody has had a different image of it before actually seeing one in real life. Otherwise, it goes surprisingly under the radar, which I do like a lot. It was one of the reasons that drew me towards Audemars Piguet from the beginning: To wear a watch only recognisable to those in the know.