Girard-Perregaux revealed the new Laureato 42mm Green as an addition to the Laureato line.
Release notes and commentary in italics.
New Release: The Girard-Perregaux Laureato 42mm Green
Girard-Perregaux Laureato 42mm Green retails for SGD 19,800 inclusive of GST and available in Singapore from The Hour Glass from December 2022.
The original Laureato was born in 1975, a period in watchmaking history when luxury steel sports watches were starting to catch on. This era saw the birth of the high-end sports watch segment, just three years earlier, Audemars Piguet's Royal Oak was first unveiled in Basel, closely followed by Patek Philippe's Nautilus 3700 release in 1976.
Harnessing the timeless character and elegance of green, as well as encompassing the symbolism of the virescent hue, Girard-Perregaux is pleased to release a new addition to the Laureato collection. The aptly-named Laureato 42mm Green perpetuates the story of this timeless classic which began life in 1975 and, despite the passage of time, has never aged or lost its aesthetic allure.
Green watch dials have been on-trend for the last 18 months, joining the ubiquitous blue dial as a must-have option for any serious watch collector. The verdant shade is widely associated with nature and it is the principal colour of many a landscape. Virescent shades are associated with harmony, health, hope and prosperity. Indeed, this bewitching hue means very much to very many and confers a lasting allure; green is not a fleeting fashion, it is an enduring classic.
Likewise, the Girard-Perregaux Laureato, launched in 1975, remains timeless and continues to engage with watch aficionados and devotees of the accomplished design. Encased in steel with an integrated bracelet, the Laureato is a byword for versatility, proving suitable for all roles, whether sporty, casual or formal.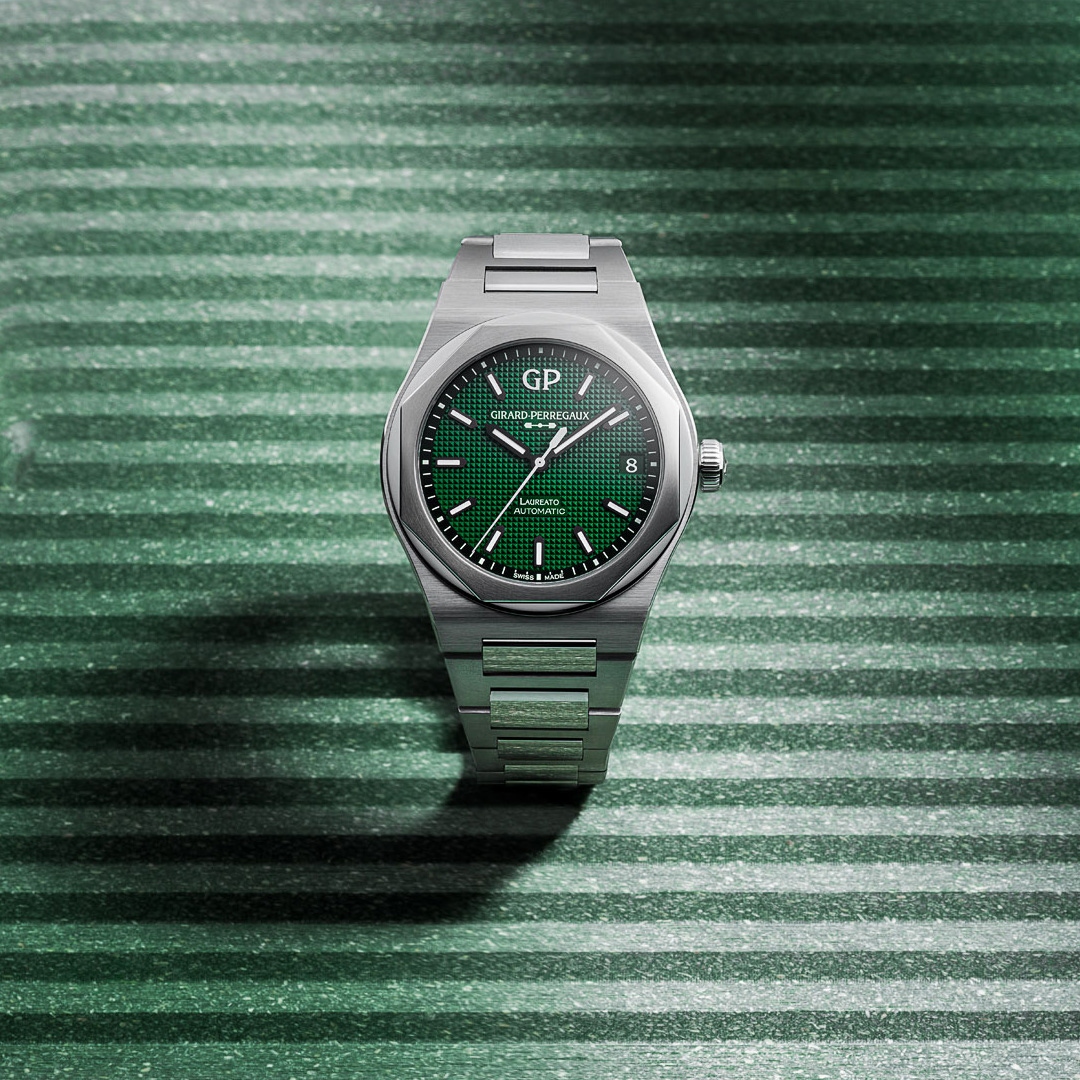 Now, Girard-Perregaux unites the Laureato with a new, distinctive green dial. This hue is paired with a Clous de Paris dial pattern, accentuating the richness of the dial colour as it transitions from one shade to another, depending on the available light.
While most aesthetic elements will prove familiar to longstanding admirers of the Laureato and respect the original model of 1975, there is one detail that is unequivocally new. For the first time on a Laureato with three hands, this new model juxtaposes a black flange with the main dial colour, in this instance, green. It may be different, but the notion of enduring style remains undiminished.
On the technical front, the GP01800 is a modern 4Hz movement with an admirable power reserve of 54 hours. This is an existing movement which has proven its worth.
The movement is nicely decorated with perlage (circular graining), Côtes de Genève (Geneva waves), and bevelling (chamfering). The movement is entirely made and finished in-house. From designing to producing and adjusting, everything is done on site at the Girard-Perregaux manufacture. There are small details that make this movement not just agreeable, but beautiful. For instance, the balance wheel cock alone boasts 3 different finishes.
The steel oscillating weight is decorated with circular Côtes de Genève and proudly engraved with "Manufacture Girard-Perregaux" in golden text. And why shouldn't they be? To be around for as long as they have while maintaining high standards over all the years is nothing to be sniffed at.
Concluding commentary
Girard-Perregaux Laureato in 42mm steel case and green dial is a lovely piece. The watch is a well-balanced combination of classic elements and modern design, and is a well finished piece in its own right. While in and of itself, the watch is a good looking piece with heritage and provenance, it is in a tricky category competing with highly iconic timepieces. Considering that some may find controversy with Piaget's Polo S, it is not surprising that many would remark that the Laureato is 'simply' a mix of the popular Audemars Piguet Royal Oak with some elements of a Patek Philippe Nautilus; especially with the new H style bracelet with polished center links.
That said, while hard to unsee the similarities, it is also prudent to acknowledge that the bezel design and integrated bracelet follows the DNA of the 1975 original, and the similarity of design can be attributed to the design 'zeitgeist' of the '70s. So apart from some awkwardness at being mistaken for an Audemars Piguet Royal Oak (by the less initiated), distill that, and you can enjoy a well-made bracelet sports watch with an in-house movement with a great design and is of course, less mainstream than the rest.